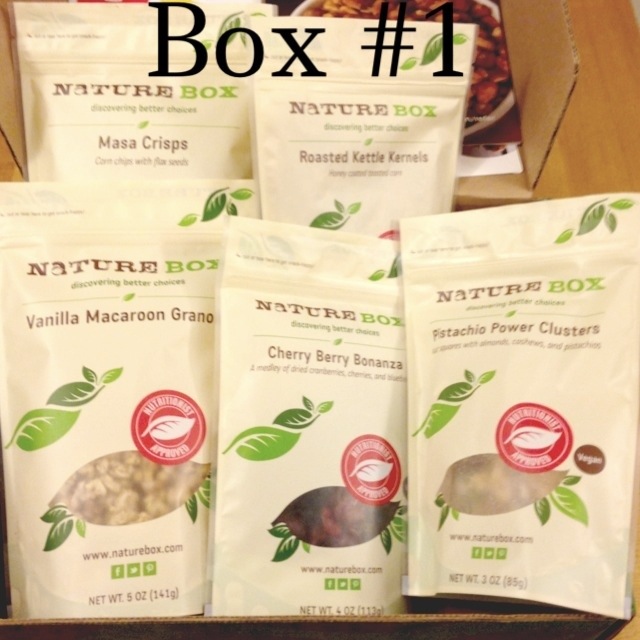 Oh. Yes.
I got my first Nature Box in the mail, and honestly I was blown away.  Not only with the size of each bag and the variety, but also the quality of the snacks.
No sample sizes here!  Nature Box makes all of their own products and you can personalize your monthly shipment based on your taste and any dietary restrictions you might have.  The best part?  If, for whatever reason, you're not happy with anything in your box, you get a snack credit for your next shipment.
Nature Box picked my first set of snacks for me, and I loved all of them.  The box included Masa Crisps, Roasted Kettle Kernels, Vanilla Macaroon Granola, Cherry Berry Bonanza, and Pistachio Power Clusters.  The Masa Crisps reminded me of Fritos and are great by themselves or with a little hummus.  My only complaint is the crisps themselves were small and couldn't hold much dip. #firstworldproblems
The Roasted Kettle Kernels are out of this universe.  Love, Love, Love.  I've added them to every monthly shipment since.  I could eat these forever…breakfast, second breakfast, lunch, and dinner.  A hint of sweet mixed with salty.  Dead.
The Vanilla Macaroon Granola was delicious.  A little sweet, but super tasty.  This granola works well over yogurt or all by itself.  I'm not even a coconut person and I really liked this.  There wasn't any gluten in these, but they are made in a factory where gluten is present.  I didn't have a reaction to the granola, but someone with a higher sensitivity may be affected.
The Cherry Berry Bonanza was better than I thought it would be.  Sometimes dried fruit can be a little hard and overly sweet if additional sugars are added, but this fruit mix was really tasty.  I used it to top yogurt, added it to my oatmeal, and used it in some lactation cookies.
The Pistachio Power Clusters were Mr. B's favorite out of the shipment.  There were a pretty good amount of clusters in the bag and they were a good on-the-go, quick snack.  I expected them to be a lot sweeter than they were, but was pleasantly surprised with the flavor and freshness.
So far I'm loving my Nature Box subscription and can't wait to customize next month's order!  Do you subscribe to any monthly boxes?  What are your favorites?
-KB