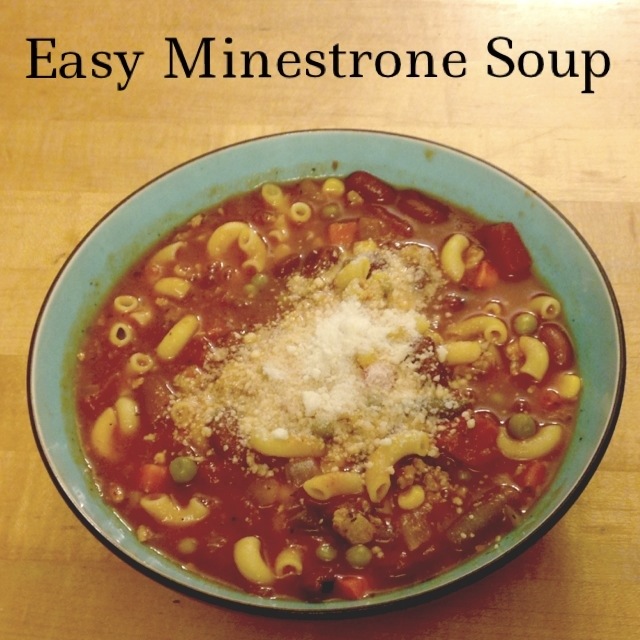 This has to be one of the tastiest, easiest soups ever, and it's so versatile that it can be adapted to whatever veggies you have in your fridge or pantry.
Minimal chopping, minimal time. Yes, please.
Minestrone Soup
Serves 8 (16 cups)
Prep time: 5 minutes
Cook time: 30 minutes
1 lb. lean ground turkey (optional)
(1) 32 oz. container of chicken broth
(1-2) 14.5 oz. cans of chicken broth
2 cups of gluten free pasta (something small like elbows)
(2) 14.5 oz. cans of kidney beans (drained and rinsed)
(2) 14.5 oz. cans of diced tomatoes
1 large onion (diced)
40 oz. mixed frozen vegetables
2 tsp salt
2 Tbsp Italian seasoning
1/2 tsp dried basil
1/2 tsp dried thyme
Directions:
Cook pasta according to package directions.  (Note: If you're planning on freezing the soup, make the soup and wait to make the pasta until you're going to eat the soup. Gluten free pasta tends to break up and kind of dissolve after being frozen, especially when reheated.)
At the same time, saute onions and brown turkey meat in a pan. Transfer into a large stock pot, add all ingredients (except pasta), and simmer for 20 minutes. When ready to serve, add pasta and stir through.
Enjoy!
-KB