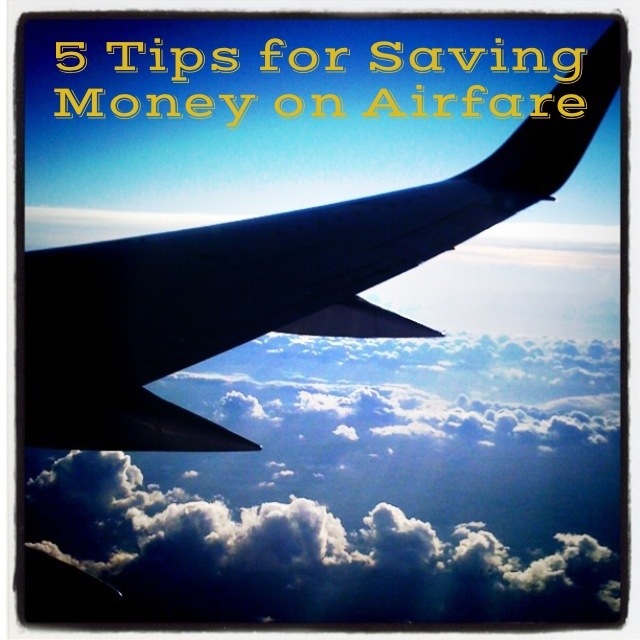 Airfare is always one of the more expensive items for a trip. Here are a few tips I've picked up over the years while trying to snag the elusive 'cheap flight'.
1. Research early and often: If you're flying domestic, it's typically best to start looking for flights 2-3 months before your trip. That way you can get a sense for the price over a large range of time.  If you're flying internationally, I typically start looking for flights 4-5 months ahead of time. You may think this is overkill, but it's how I was able to get our Italy flights so cheaply. If I had waited another month or so, it would have jacked the price up another $200-300 per ticket.  You also have to be aware of the time of year you're traveling and the time of year you're booking. If you want to book a flight around a holiday, you'll want to book further in advance than you typically would.
2. Check multiple sites on specific times/days: Airlines have specific days that they have 'sales' and provide discounts on flights. Typically Tuesdays are a great time to check flights, because airlines will adjust their prices to match, or even beat, the prices their competitors posted on Monday. Beware, these prices usually start to disappear Thursday to prepare for a price hike on the weekend, since that's when the majority of people will do their trip planning.  This isn't always the case though, and a Texas A&M study showed that Saturdays and Sundays have recently been showing cheaper flights.
For that reason, when I'm first starting out my research process, I like to check a few times a week until I get a good pattern down on the prices for that particular flight.  For our Italy trip, the price we got our tickets at came up on Tuesday and stayed up until we booked Saturday night.  By Monday, the flight price had risen $200/ticket and continued to go up in the weeks leading up to the trip.
3. Be flexible and creative: You're more likely to get a better ticket price if your dates are flexible, and even better if your airport is flexible (both departure and arrival). I'm fortunate that I'm within an hour and half of about 6 different airports. Now, it may be more convenient for me to just fly out of PHL, but if it will save me $200 to fly out of ACY or EWR, I'm definitely willing to do that. If your departure dates are flexible, Wednesdays are typically the cheapest day to fly. Luckily several sites have an option you can select to provide you with flight prices for different days.
4. Subscribe: Travel Zoo, Kayak, Airfarewatchdog, and many other sites will send out daily or weekly emails letting you know if there are any deals on flights. You may not want that kind of mail in your inbox all the time, but the best thing to do is to set up a separate email address just for those types of emails, or even easier, set up a filter so all of the emails go to a specific folder that you can peruse at your leisure. Those kinds of sites don't always have the best deals, but once in a while you can catch a really great sale.
For example, Mr. B and I went to Ireland on a Travel Zoo special and it was great. The total came out to $450 per person for a 4 day, 3 night trip with airfare, hotel, and breakfast each day. Can't beat that!
5. Declare your loyalty: Another way to get inexpensive or free flights is to declare your loyalty to an airline. Instead of racking up points across several flight providers, stick to just one. Some flights may be more expensive this way, but in the long run, your loyalty will earn you points. If you open up a credit card, you can earn even more points. There are several sites like Travel Hacking Cartel, Frequent Flyer Master, and The Points Guy that tell you step by step what to do to maximize your point earning potential. I haven't had much experience with this, but I was very tempted to sign up for a Delta credit card on my flight back from Florida a few months ago. They were offering a 45,000 point sign up bonus, plus a free round trip companion ticket.
Which one of these tips are you going to try the next time you fly?
-KB