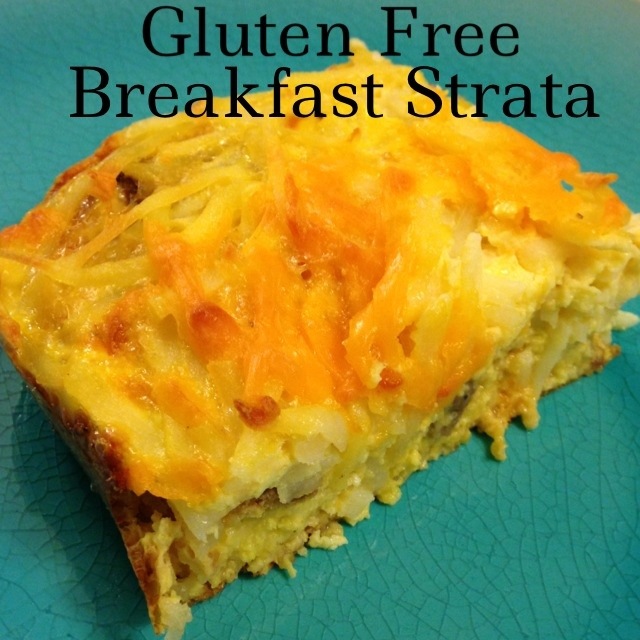 Any meal I can make ahead of time is good in my book, and if it takes less than 10 minutes to prepare that's even better. I was looking for something to make for Christmas morning breakfast that would save us from slaving over the stove to make food for 7 people, and something that everyone would enjoy. I came across this recipe and hit the jackpot. Not only was it gluten free, but I could make it the day before and then pop it in the oven while we were opening presents. Perfect!
I've made this strata a few times since Christmas, and made some tweaks to get it just right. We've eaten it for breakfast, lunch, and dinner, and last time I even made an extra one for our freezer meal stash.
Gluten Free Breakfast Strata (adapted from RunWiki.org)
Serves 6-8 (depending on how hungry you are)
Prep time: 10 minutes
Cook temperature: 375 F
Cook time: 50 minutes or until eggs look cooked


Ingredients:
12-14 large eggs, beaten
1.5 cup of milk (I use original almond milk)
6 toasted gluten free waffles (I use Wegman's brand, but you could also use toast, or even english muffins if you have them)
3 cups of frozen, shredded hashbrowns (Wegman's brand is gluten free, and I use a little more than half of their 30 oz. bag)
1 cup of shredded cheese (I've also used feta, and deli cheese and it came out great)
1.5 cups of turkey sausage crumbles (You can also substitute with chopped up patties or links)
1/4 tsp salt
1/4 tsp black pepper
Directions:
Preheat the oven to 375F and coat a 9×13″ dish with cooking spray. Toast the waffles and lay them in the bottom of the dish. Add the turkey sausage on top of the waffles, and then distribute the cheese on top. Put the hashbrowns on next and pat them flat. Add the milk, salt, and pepper to the eggs, and beat until mixed. Pour the egg mixture evenly over the hashbrowns. I usually sprinkle a little more cheese on top, because you can never go wrong with cheese.
The strata will keep in the fridge for up to two days before cooking, but you can cook right away for approximately 50 minutes at 375F.
I prefer mine with a little ketchup and, of course, sriracha. This recipe freezes well too; just make, bake, and cut up into portion sizes to freeze and reheat when you're in the mood for breakfast.
Enjoy!
-KB