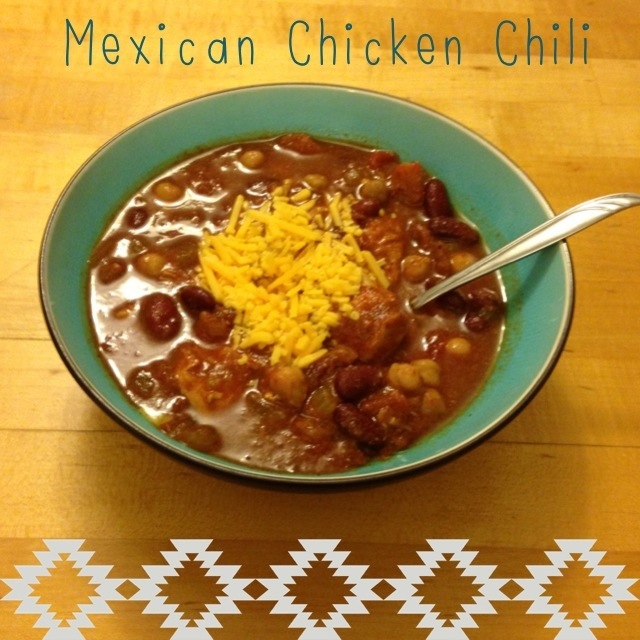 I love my crockpot. All you do is prep, and it does all of the work. My kind of guy appliance!
I mentioned in my last post that I'm putting together some freezer meals to try to save some money and eat somewhat healthy once our little guy arrives. I know we'll be short on time, sleep, and patience, so quick and easy were a must when coming up with recipes to use.
A tried and true recipe I've been making for years is this Mexican Chicken Chili. With just a few minutes of prep, you can have a hearty, healthy meal. I usually try to make more than a single batch at a time to maximize my chopping, and have plenty of leftovers. I also love this recipe because you don't have to cook the chicken ahead of time! I just made a double batch myself. I cooked one batch for dinners and lunches, and put the other batch right in a freezer bag so we can just put it in the crockpot when we want an easy dinner.
Mexican Chicken Chili (adapted from A Year of Slow Cooking)
Serves 8
Prep time: 15 minutes
Cook time: 7-8 hours on low
Ingredients:
2lb. of uncooked, boneless chicken cut into 2″ sized pieces (you can always add more chicken if you want to up the protein)
(2) 10 oz. cans of enchilada sauce (I like to use a Mild and a Medium)
3 chopped celery stalks
(3) 14.5 oz. cans of seasoned, diced tomatoes
(3) 15 oz. cans of pinto or kidney beans, drained
1 small/medium onion diced
1 tbsp chili powder
1 tbsp cumin
Directions:
Pour the enchilada sauce, canned tomatoes and beans into a 6 qt. slow cooker. Add the celery, onion, and spices. Stir to combine. At this point, I usually taste the mixture to make sure there's enough spice. Place the uncooked chicken on top. Cover and cook on low for 7-8 hours, or until chicken is cooked through. Once the chicken is cooked, it will start to shred when you stir the chili.
Serve with sour cream and cheese on top and enjoy! Any leftovers freeze really well.
-KB