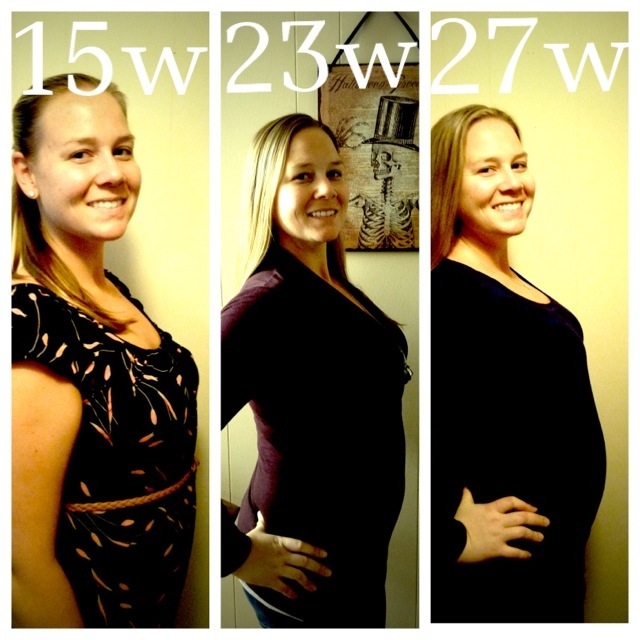 It's been awhile since my last update, but not too much has changed. Except for my ever-growing belly, as evidenced by the pictures above. I feel like I've finally started to look pregnant in the last few weeks. The little guy is doing well, and is super active most of the day.
How far along: I'm 30 weeks, 2 days as I post this, and Baby B is measuring right on track.
How I'm feeling:  So far so good.  I'm starting to get tired more easily, but that's to be expected.
What I miss:  Red wine, red wine, and red wine.  I've missed sushi most of my pregnancy, but now all I want is wine.
Food: I don't think I've mentioned it on this blog, but I do my best to eliminate gluten from my diet due to a gluten sensitivity. This sensitivity causes my seasonal allergies to spin out of control, and usually results in a sinus infection. Gluten also reeks havoc on my intestines and makes me a bit bitchy cranky. Out of all the things I can't have during pregnancy, gluten has been one of the harder things to stay away from. There have been days that I've caved and eaten a regular sandwich, or had bread with dinner, but it always leaves me feeling like crap. I know this will continue to be a struggle the further along I get.
Awkward Moments: My awkward moments recently have been my inability to bend down and once I get down, my inability to get up gracefully. I feel like my belly is huge, and always in the way.
Clothes: I'm still rocking the same clothes, and have picked up a few more tops and dresses. My amazing winter boots are close to not fitting because of my huge calves, but I've managed to sausage myself into them a few times with minimal issues.
Fitness: My workouts lately have been a little slower, but I'm still lifting 2-3 times a week and doing yoga 2-3 times a week. I have noticed that my workout clothing selection is dwindling, and I may have to resort to working out in a sports bra if I don't buy some tshirts that fit over my belly. Somehow at 24 weeks I had the stamina and the energy to hike for 5 hours straight. Looking back, that was probably the last week I would have been able to do that. I was tired then, but I would have been exhausted doing it now.
Overall, I'm feeling really good and looking forward to celebrating holidays with my family and friends.