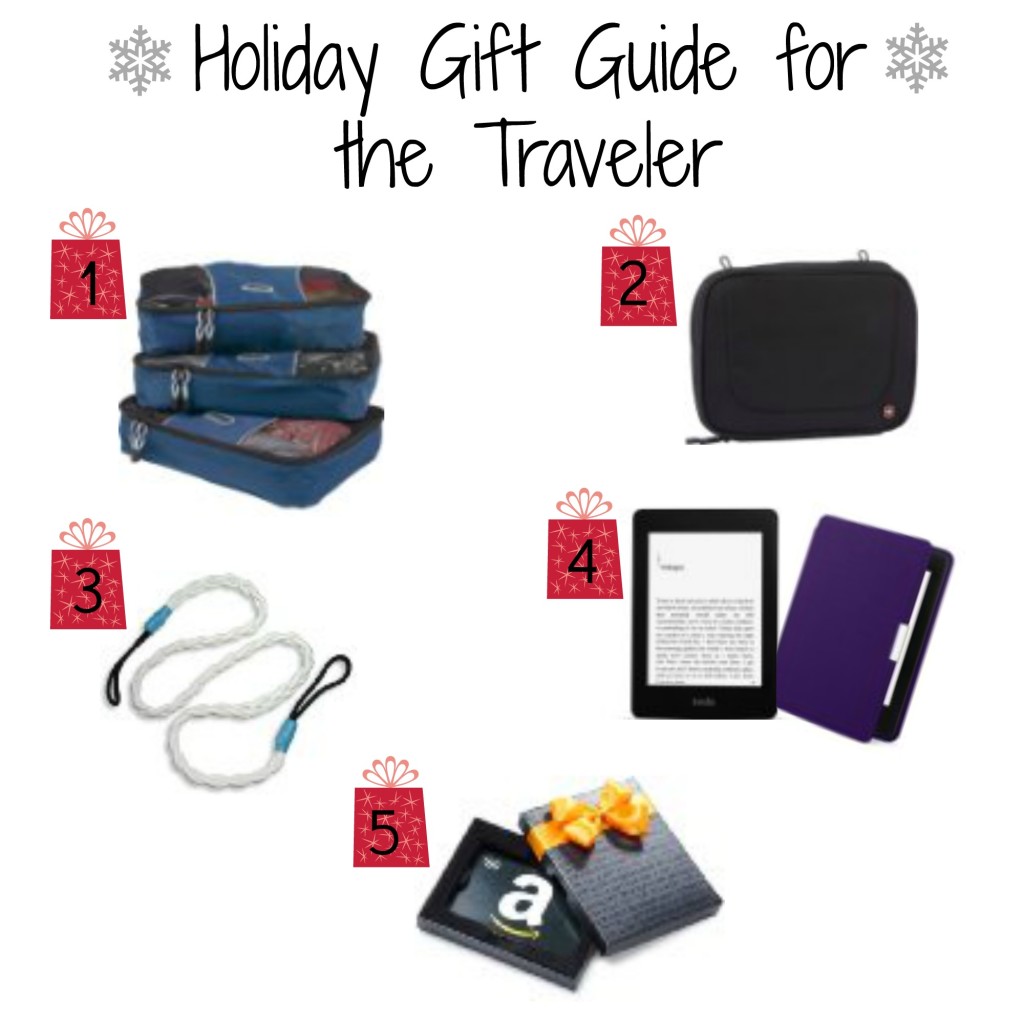 Since the holidays are right around the corner, I figured it would be a good time to share some of my favorite gift ideas for the traveler in your life.  Best of all, you don't even need to set foot in the stores!
Packing Cubes: One thing that I've found helpful, even on short trips, are packing cubes. These have been a lifesaver, and they help keep my suitcase organized even if I'm stopping at multiple places on my trip. I've also found them useful for separating dirty and clean clothes on my way home. I didn't expect something so inexpensive to have such a great return on value, but I've used them for every trip I've taken since Italy.
Jewelry Organizer

: One thing I usually struggle with is keeping my jewelry from ending up all over my suitcase or in a mess of knots. This organizer has enough padding to protect more delicate items, and enough zippered pockets to keep everything in its place. I liked that it was compact enough that it wouldn't take up much space in a carry-on.

Clothesline: This sounds like a really silly gift, but it was invaluable for doing laundry and helped save us a trip to the laundry mat to dry our clothes. The clothesline is very stretchy and the Velcro closures hold tightly. This probably isn't something that a traveler would buy for themselves, but it would make a great 'stocking stuffer' gift that they'd be sure to use.
Kindle Paperwhite with Wi-Fi: I love, love, love my Kindle. I've used it A LOT since I got it last year, especially when traveling. My favorite thing is that you can load tons of books on here and not have to worry about over or under packing books. The battery has lasted through several hours of reading without needing a recharge, and it's slim enough to fit in any size carry-on. I decided on the Paperwhite versus the Fire, because I wanted the feel of a traditional book and didn't want to have to look at a computer screen any more than I already did at work. I bought a leather cover to protect my Kindle, and it's held up really well over the past year. This is one of the more expensive gifts, but I think it's my absolute favorite travel accessory right now. Totally worth it for the reader who loves to travel.
Amazon.com Gift Card: Amazon is my favorite place to buy travel books, because you can get them used for a lot cheaper and there's a huge selection. They also have a variety of other travel accessories. I love that you can get the gift cards in pharmacy stores and supermarkets now, but you can also order them right from Amazon and they'll either ship a card to you or email you an e-certificate. That way if you're looking for a last minute gift, you can still get get something they're sure to love.
I hope everyone has a safe and Happy Hanukkah and Thanksgiving this week! Happy shopping!
-KB
Disclosure: Please note that the links above are affiliate links and do not cost you anything extra. I will earn a commission if you decide to make a purchase. Please understand that I have purchased all of these products and use these websites. I only recommend them because they are helpful and useful, not because of the small commissions I make if you decide to buy something. Please do not spend any money on these products unless you feel you need them or that they will help you achieve your travel goals.