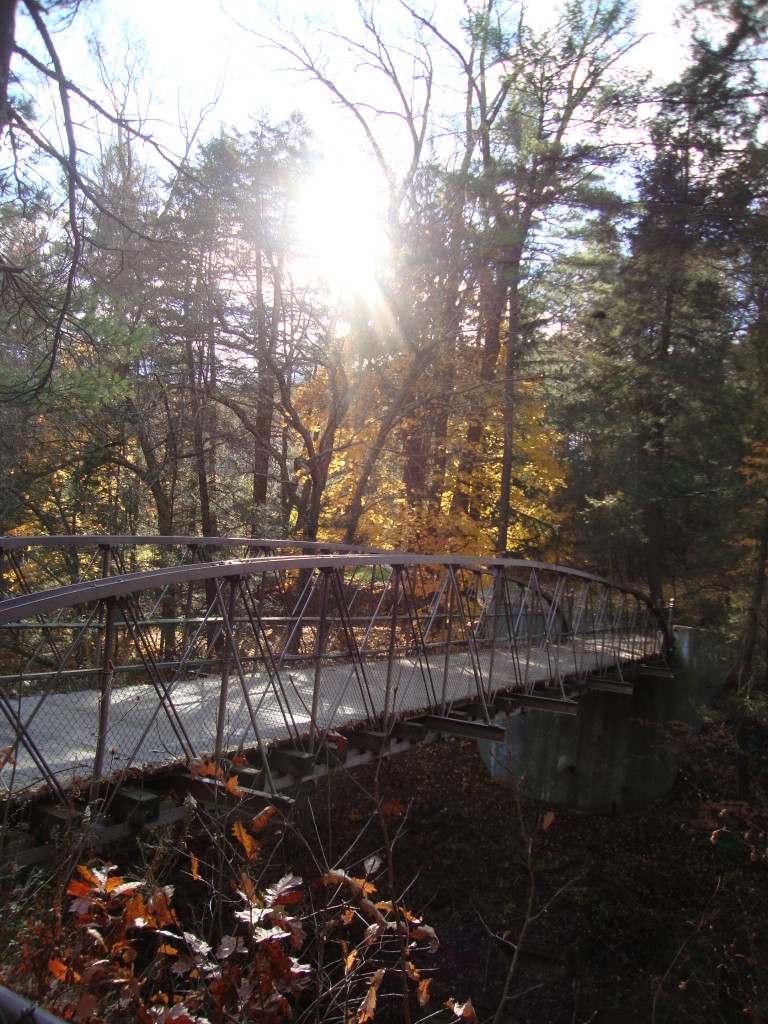 As I get closer to the end of my pregnancy, it becomes more and more apparent that traveling will be limited for awhile due to 1) time, 2) money, and 3) ease as we adjust to life as a family of 3…well 4 if you count Gus. Mr. B and I started looking for places to go that would be easy on the budget and easy to get to (i.e. no more than a 6 hour flight or a 5 hour drive).
I've always heard good things about the Finger Lakes area of New York, but never really looked into what's up there. Growing up, we camped just about every year at Lake George in the Adirondacks. I don't remember too much, since I was so young, but from the pictures and stories my parents tell, we had a good time.
The first things we saw when we started researching the region were all of the waterfalls in the state parks. SOLD! I'm a sucker for waterfalls and hiking, so we made plans to take a long weekend and hoped we would be able to catch some fall foliage. Our plan was to spend 4 days, 3 nights in the area hitting up as many of the state parks as we could. High on our list were:
We have a Marriott Rewards Premier Credit Card that we got for our international trips last year, and ended up having enough points to stay for free at the Fairfield Inn and Suites in the Village Horseheads, NY (yes, it's categorized as a village). Being an avid horror flick chick, I was a little concerned about the name 'Horseheads', and the Wiki explanation of how it got its name didn't really ease my anxiety, but it ended up being a really cute town and the hotel was in a convenient location. It was right off one of the main highways and close to shopping and restaurants.
It took us a little under 5 hours to make the drive up to the hotel. We probably could have made it in about 4.5 hours if we didn't have to visit so many rest stops. #pregnancyproblems We were pretty exhausted after the drive and didn't feel like going far for dinner, so we walked across the parking lot to Texas Roadhouse thinking we'd get in no problem on a Thursday night. WRONG. The angry mob of a line inside made us rethink our dinner strategy, and we walked over to Cracker Barrel. Now, I'm not really big on chains, and I like to try local places wherever we go, but convenience won out. Plus, Bryan had never eaten at a Cracker Barrel before. I have to say that dinner was surprisingly good. We both got the Turkey Dinner with cornbread, and the whole thing came to under $20. Winner, winner, Turkey Dinner.
The next day we had breakfast in the hotel (FREE!), and headed out to Watkins Glen State Park for some sightseeing and hiking. The park was beautiful and had some really nice waterfalls and trails…unfortunately, alot of the trails were closed because of the weather. It was cold enough for some of the stone-paved trails to freeze over. Boo! We also missed the fall foliage by about a week.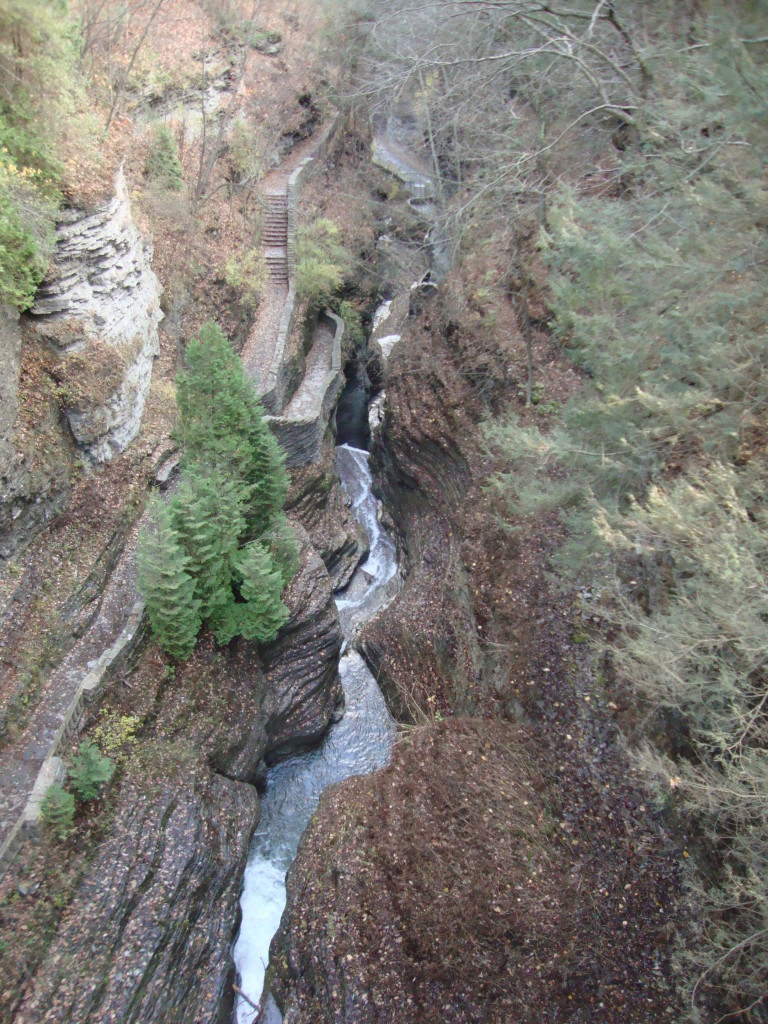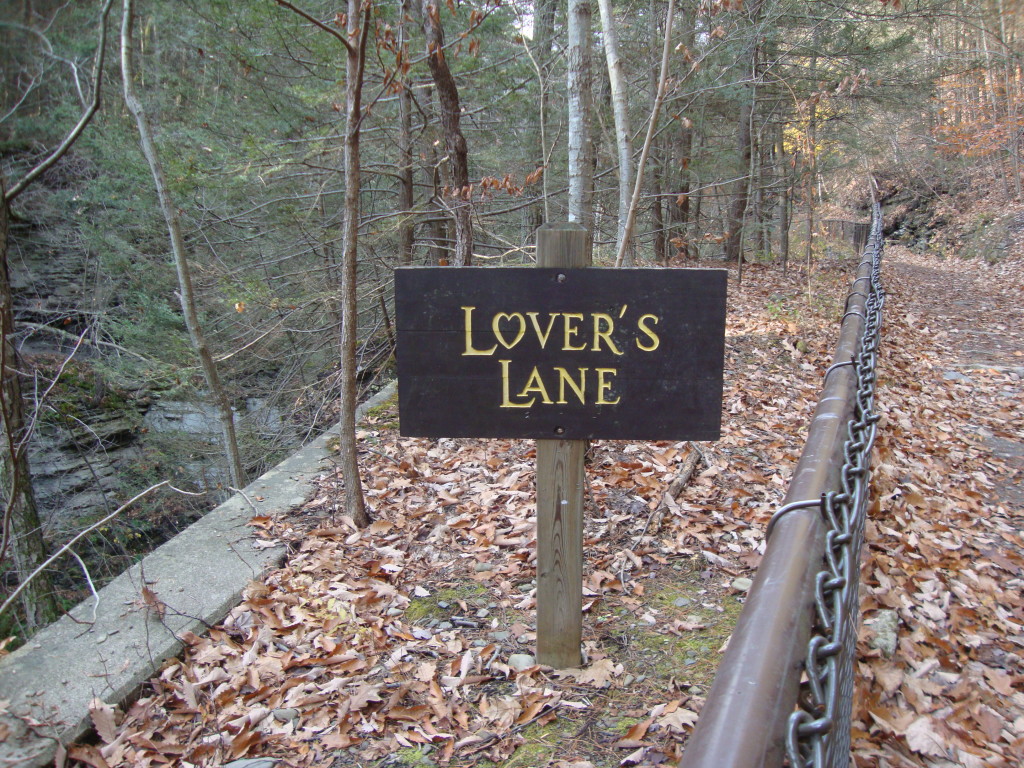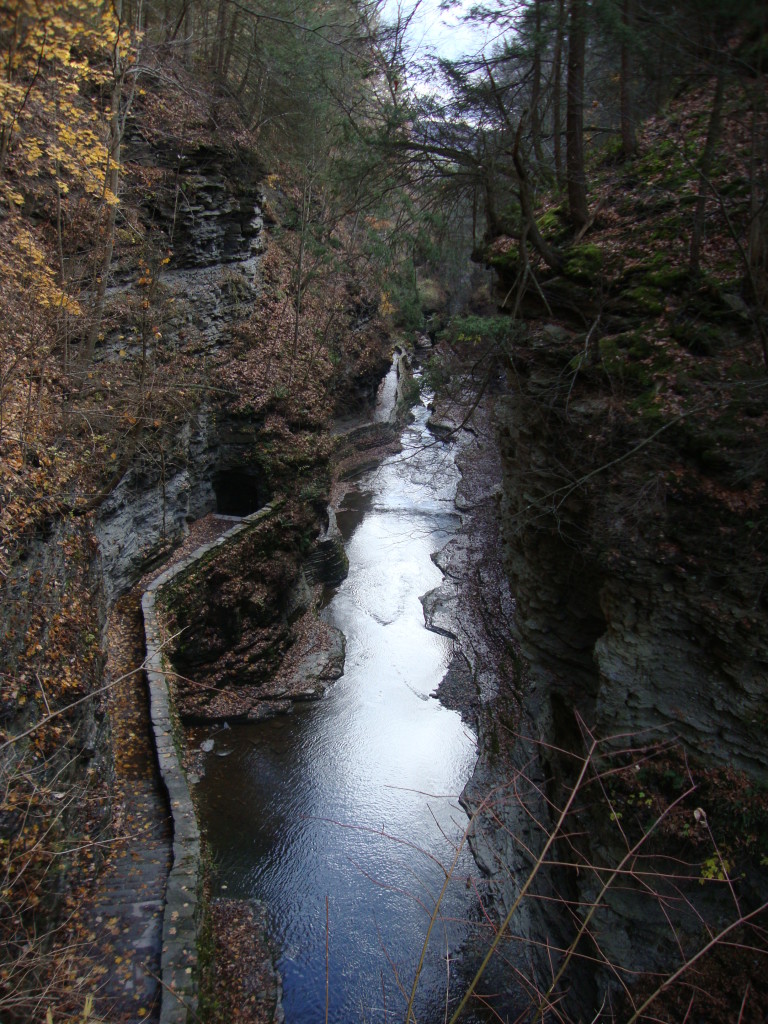 We had an early lunch at Seneca Harbor Station, and then headed north along Seneca Lake to hit up some wineries. There were so many wineries on just the one side of Seneca Lake, that I could totally see spending a whole week up there doing wine tasting. You can see a complete list of Seneca Lake wineries here, and there's still a whole different lake full of wineries to explore on top of that.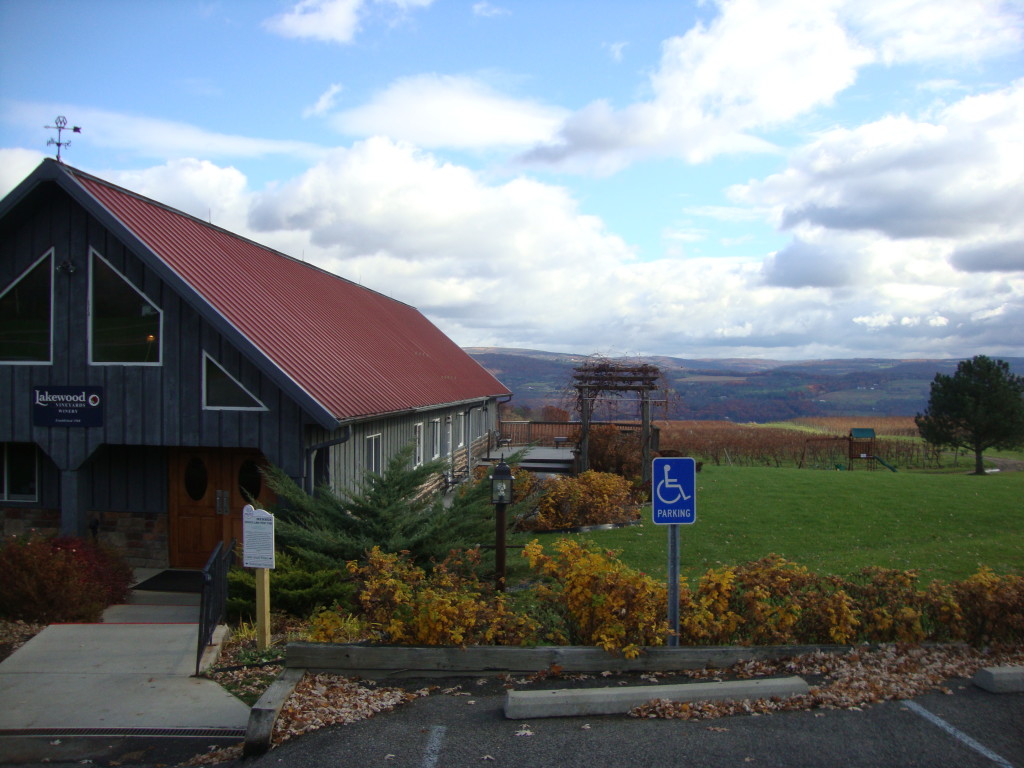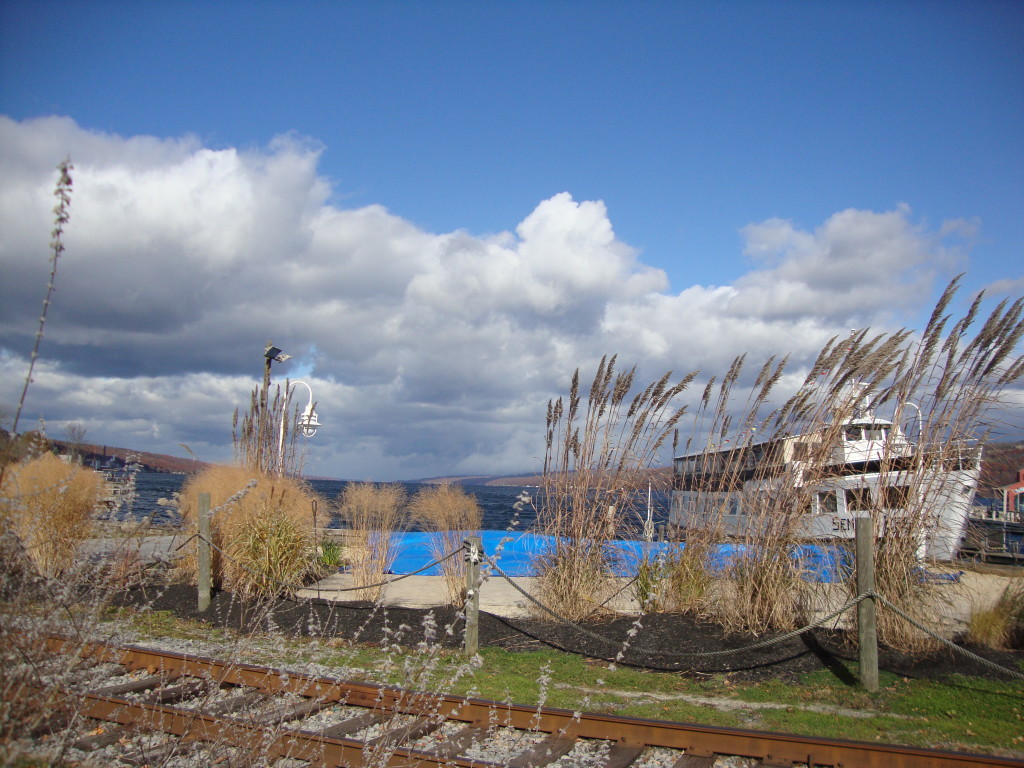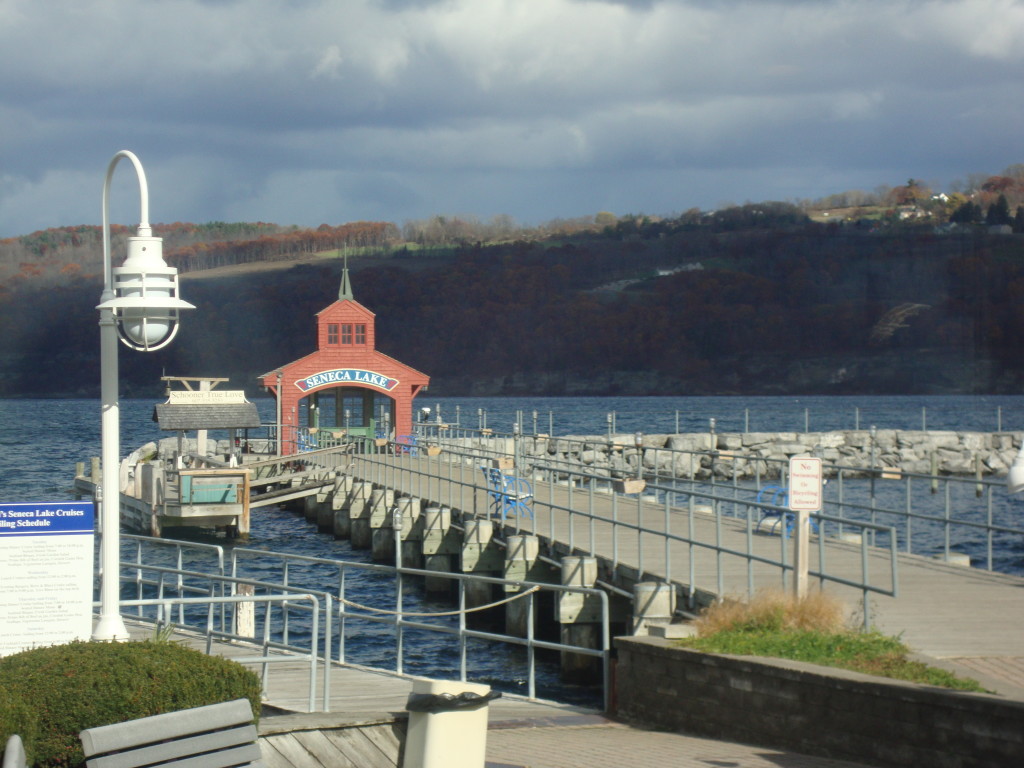 Since Mr. B was the only one doing wine tasting, we only went to a few:
Lakewood Vineyards: They had a great Riesling, and a beautiful view outside.
Rockstream Vineyards: Mr. B said they had the best port here, hands down. They also had some grappa available for tasting.
Glenora Wine Cellars: The view from the tasting room here was amazing! They also had the most extensive list of wines, and the tasting allowed you to sample about 10 different wines along with some local cheese pairings. The pricing here was also reasonable. The Riesling here was very, very good and so was the Jammin' Red that was warmed up in a crockpot with a spice pack. If you stay in their hotel overnight, you get a free tasting.
We had some time to burn before dinner and went in search of Mark Twain's gravesite in nearby Elmira at Woodlawn Cemetery.  It was a 10 minute drive from our hotel, and the cemetery itself was beautiful, as was the Woodlawn National Cemetery that was linked to it through some windy roads.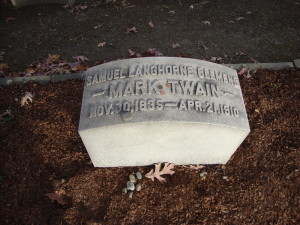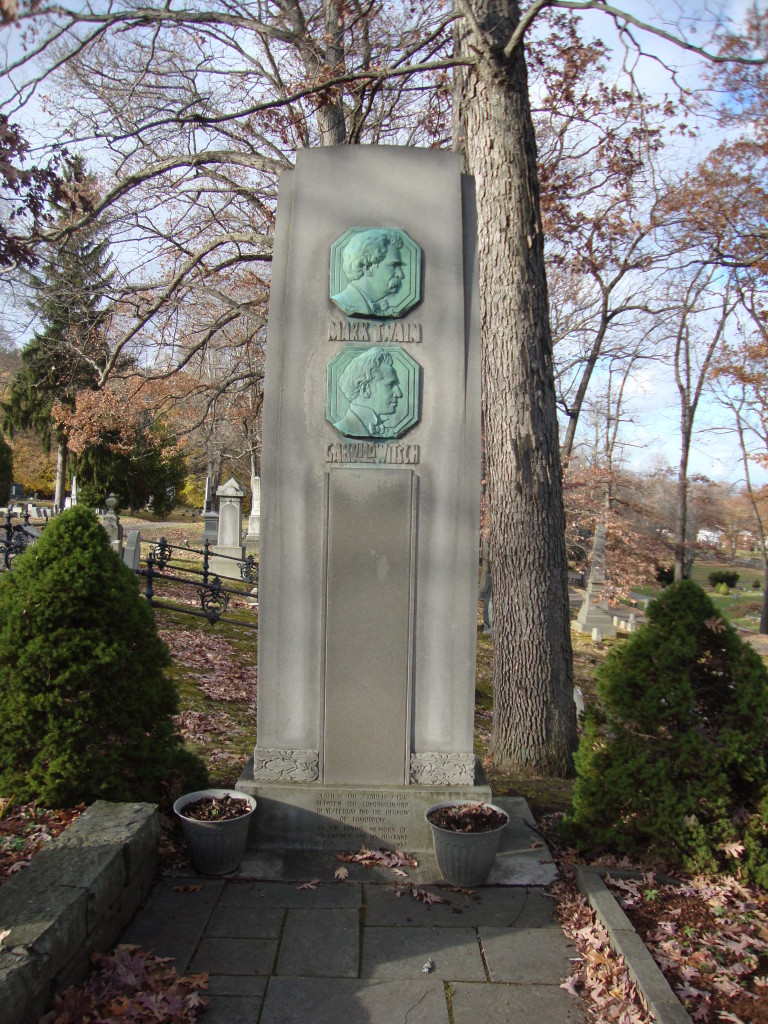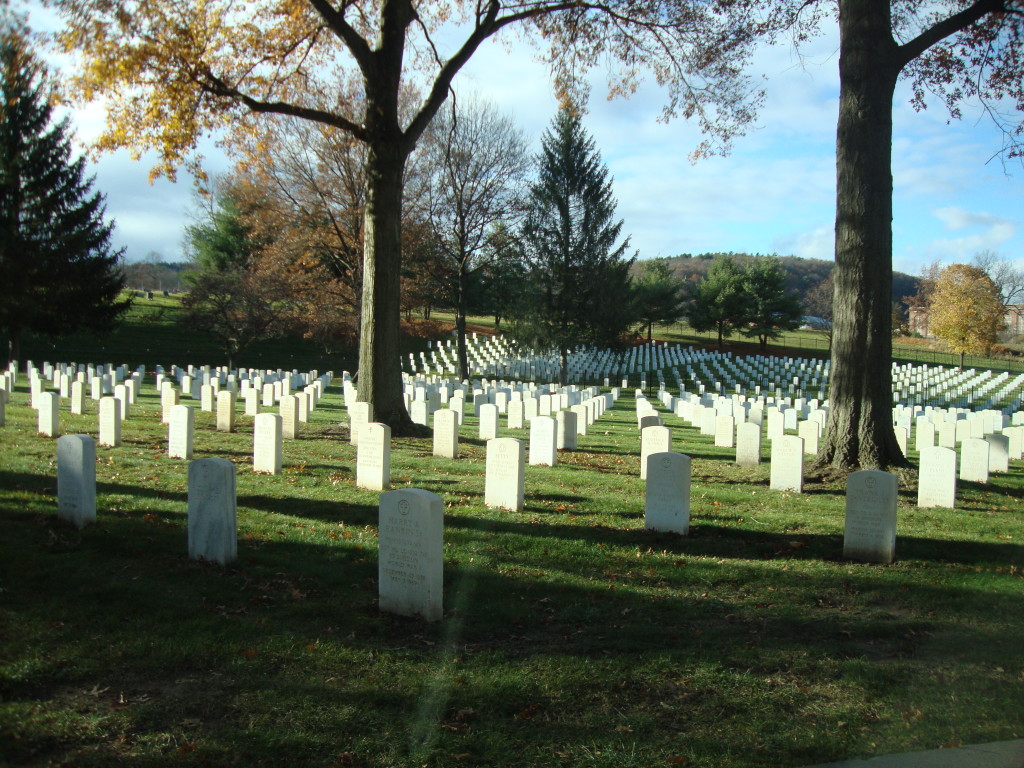 That night we ate at Louie's Hanover Square right in Horseheads. Several of the reviews talk about having to wait, because they didn't make a reservation. My advice would be to make a reservation. They restaurant is small, and when we got there, all of the tables were reserved already. We called that afternoon for a 6:30pm reservation, and didn't have any issues getting a table. The food was surprisingly good here based on how small the town is.
The next day, we got up bright and early, had our FREE! breakfast, and headed out to Robert H. Treman State Park. This was my favorite park of the entire trip. The trails were clean and well marked, and it was super peaceful and quiet. I was surprised how many waterfalls there were. At about 24 weeks pregnant, the trails were challenging, but not impossible. The whole loop took us about 4 hours total with lots of rest breaks and a bathroom break half way through.  There were lots and lots of stairs, which Mr. B said was fairly easy for him, but that I found challenging.  One thing that I loved about both parks we had been to so far was the way so many of the trails and stairs were so integrated into the woods and rock face.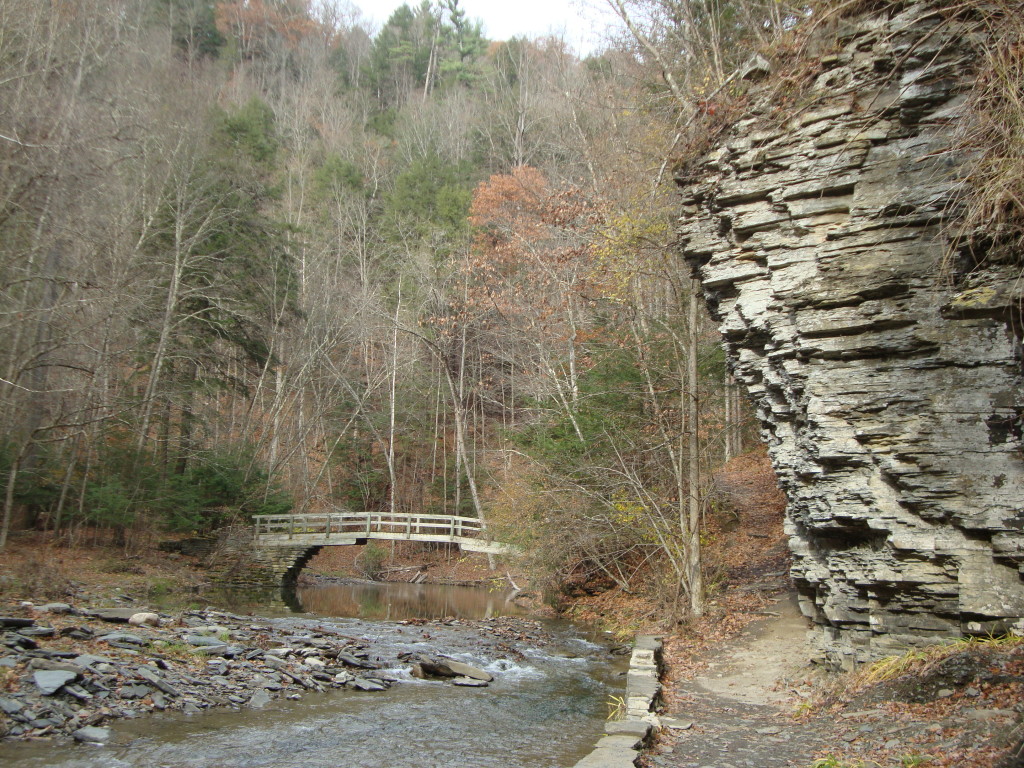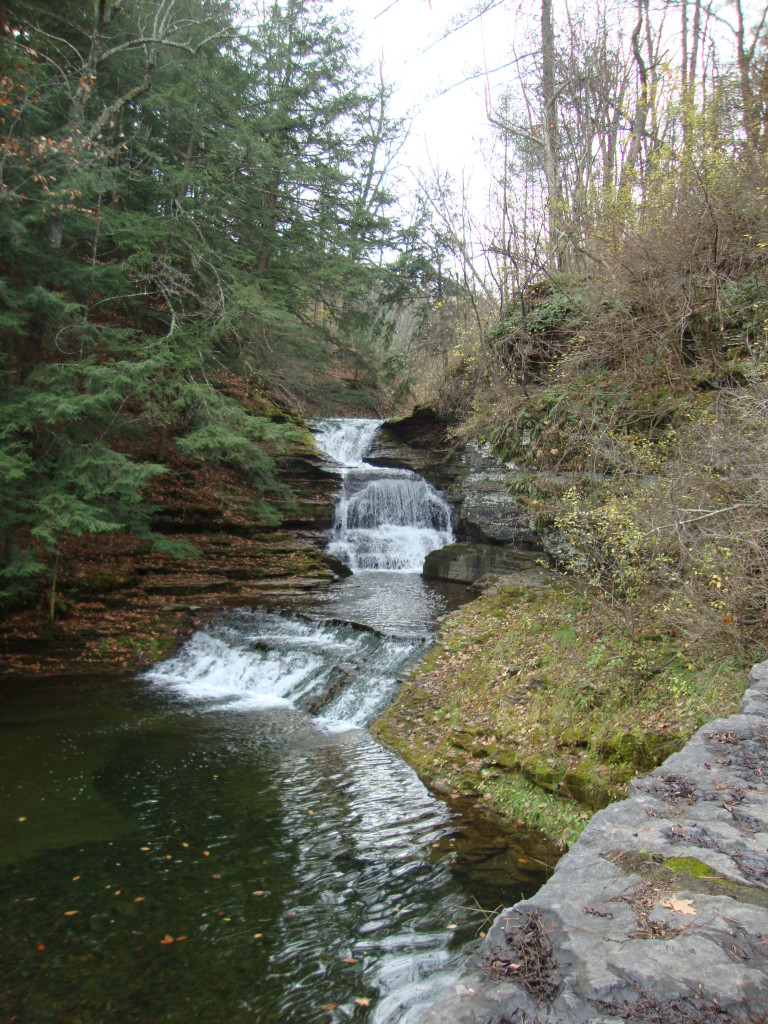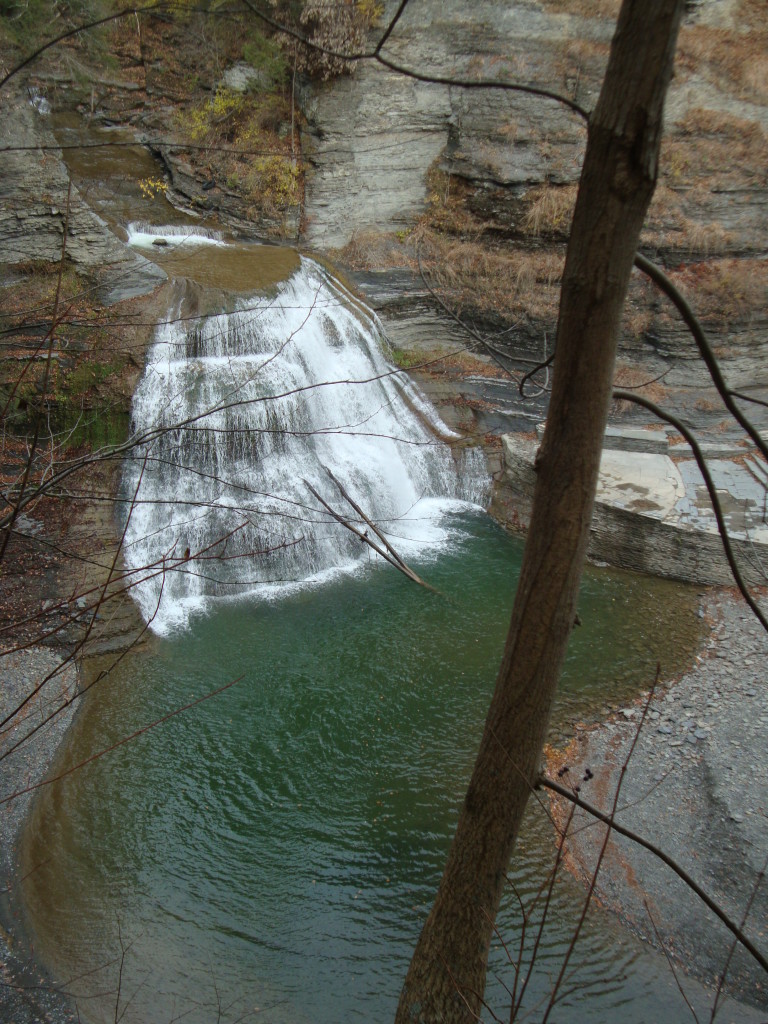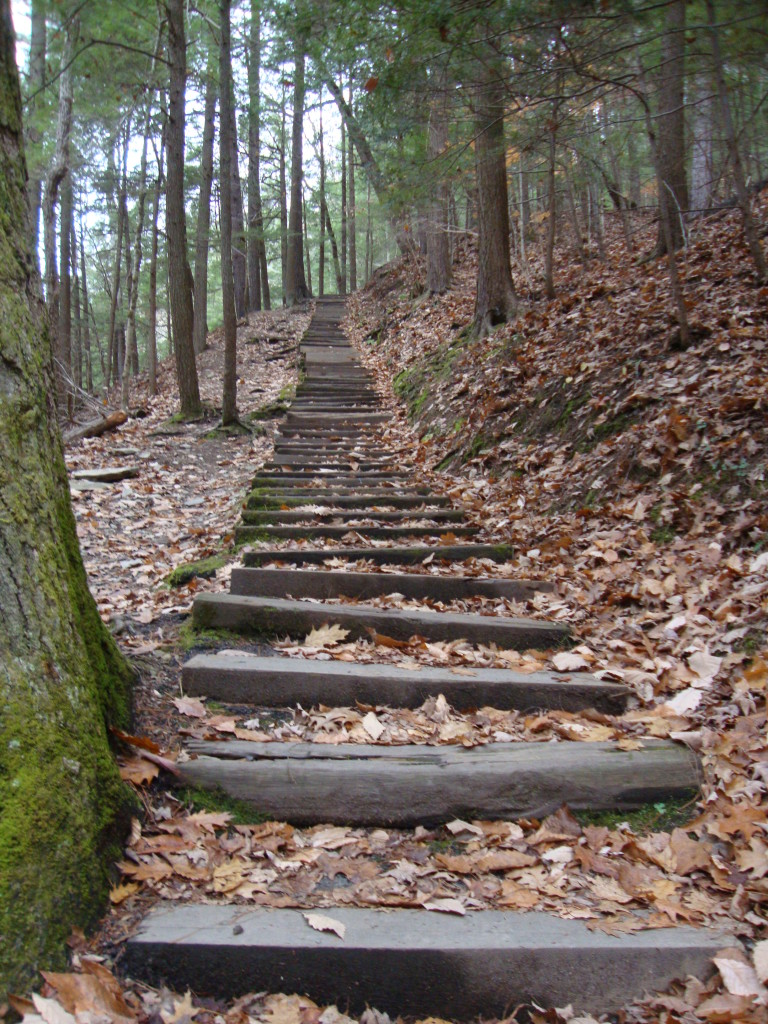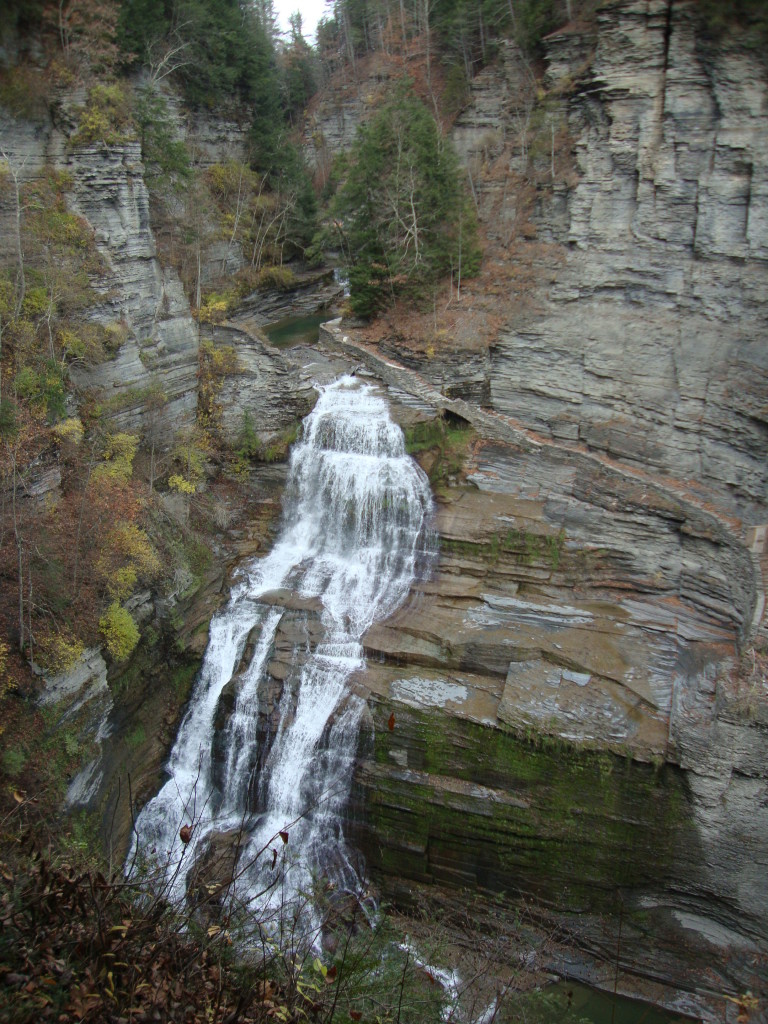 We had lunch at Saigon Kitchen, hoping some Pho would warm us up, and got an ok lunch here. After that, we went to check out Taughannock Falls State Park, which was an easy hike/walk from the parking lot. The falls were really amazing, and we took a ride up to the lookout point to get another view. They move about 4.5″ inches a year due to erosion…the nerd in me loved that if we go back in 10 years, the falls won't be exactly where they are now.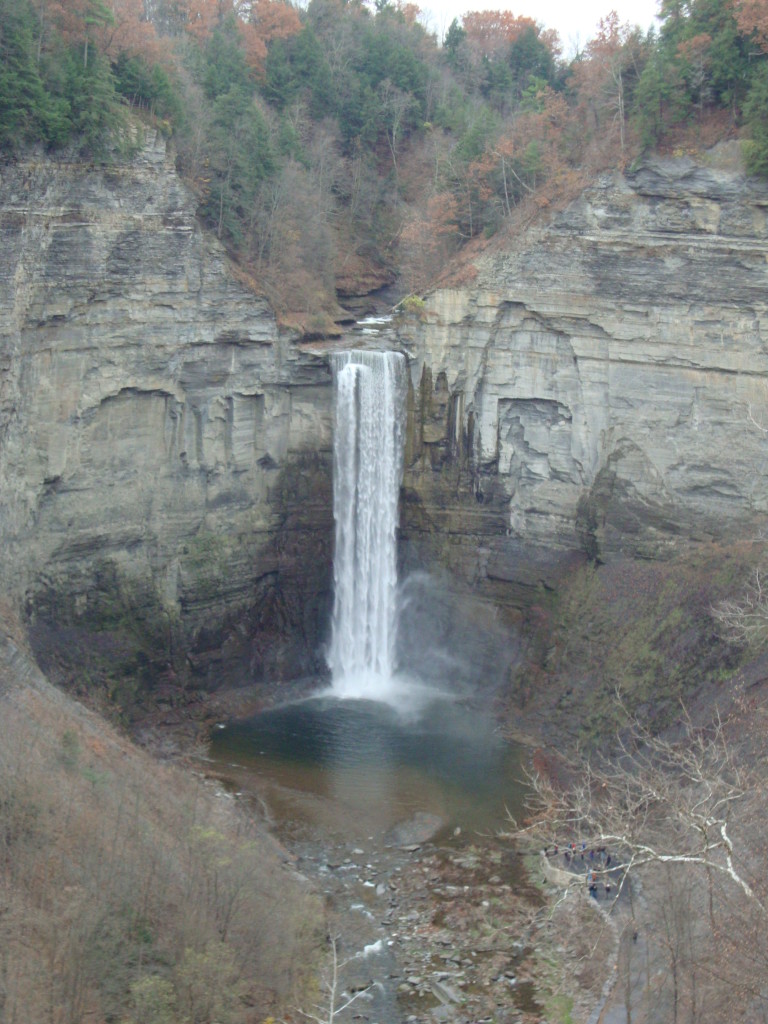 I had remembered seeing signs for Montour Falls, and we decided to take a detour to check them out. I kept calling it Minotaur Falls and imagining a bull man living under the falls, scaring away visitors. Not quite the case… We drove around the village for a few minutes, and happened to stumble upon the falls, right in between 2 people's houses. Weird, right? Waterfalls right in the middle of a neighborhood. It's got to be pretty cool to have that in your backyard, although the falls were pretty loud.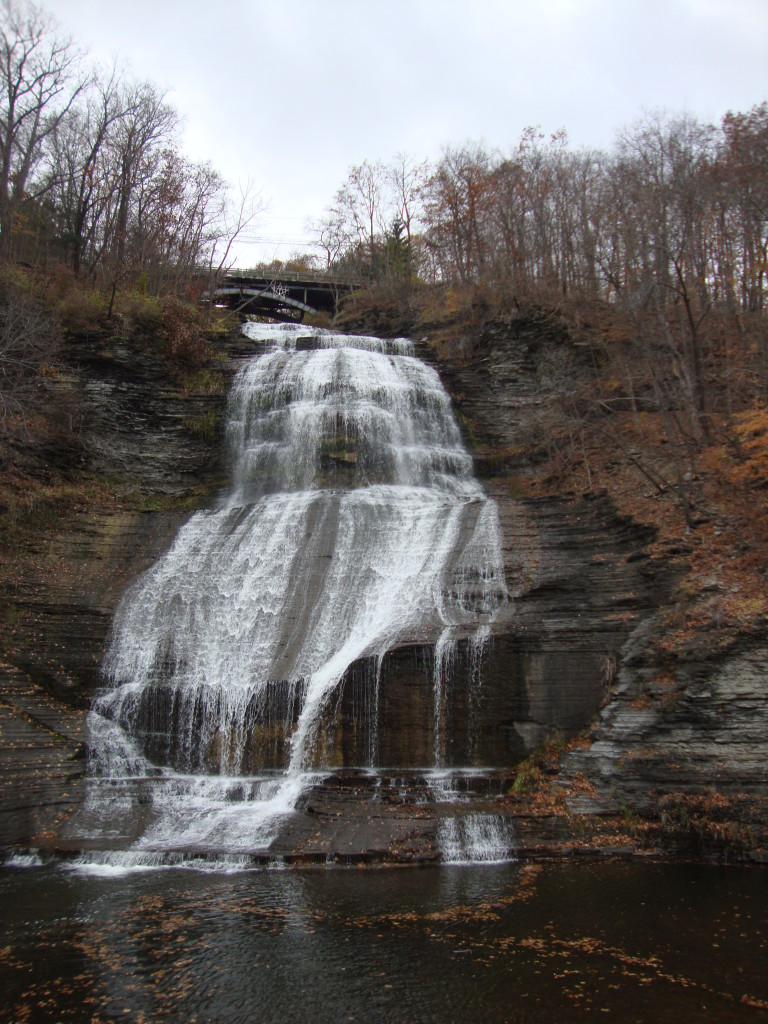 Instead of going all the way back to the hotel, we brought a change of clothes with us and changed in our minivan in the parking lot of a Barnes and Noble. Yeah, we're exhibitionists rebels like that. We relaxed and warmed up in Barnes and Noble before heading back into Ithaca to try our luck with Just a Taste for dinner since all of the reviews on Trip Advisor and Yelp were good. The one negative is that they don't take reservations, so you have to get there exactly when they open and pray you'll get in to get a seat, or you need to come back for one of the other seatings. We were lucky enough to score two seats at the bar, and were more than impressed with the quality of the food. I'm glad we saved this restaurant for last to end our trip on a high note. We got dessert to go, and ate it back at the hotel.
The next day we ate our FREE! breakfast, packed up, and headed home. We didn't make it to Buttermilk Falls, but I know that we'll come back to the area at some point to do some more exploring.  Overall, it was a great weekend and I can't wait to go back to the Finger Lakes when I can drink. I think we ended up spending under $400 total on the trip (gas, food, wine), which came in well under our budget of $600 for the trip.
Have you ever been to the Finger Lakes?
-KB