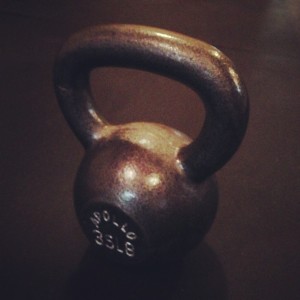 I really started to get into working out while I was in college, and even more so after I met my husband who was working as a personal trainer at the time. We even have a gym in our basement, and it gets used at least 5-6 days a week between Mr. B and myself. You can check out our gym tour here.
One of my favorite workouts these days is a kettlebell circuit. Here's a little background on the difference between a kettlebell and a dumbbell. It's a quick, full-body workout that gets my heart pumping and keeps my interest. It's also really easy to modify depending on how I'm feeling that day.
I do this circuit 4-5 times, with 5-7 reps per exercise, per side using a 18# kettlebell:
1a. High Pulls
1b. Single-arm Swings (Video-good swing set up example)
1c. Clean (Video-good example of a clean, minus the step up; although that's a good variation to add if you've got some extra energy that day)
1d. Windmills (Video)
1e. Walking Lunge (racked position)
1f. Halos (Video)
1e. Bird Dogs
The workout usually takes about 20-30 minutes depending on how long I rest between sets. Afterwards I do some light stretching and foam rolling. One of the main things I've learned about working out during pregnancy is that you need to listen to your body. If you feel light-headed, or off, stop and reassess how you feel after you take a rest. You are the only one who knows how you feel and what you're capable of. There are a few exercises that I've had to modify, or stop completely, but my motto is to try everything once and see how it feels. Start slow, and add from there.
What's your favorite way to stay in shape?
-KB