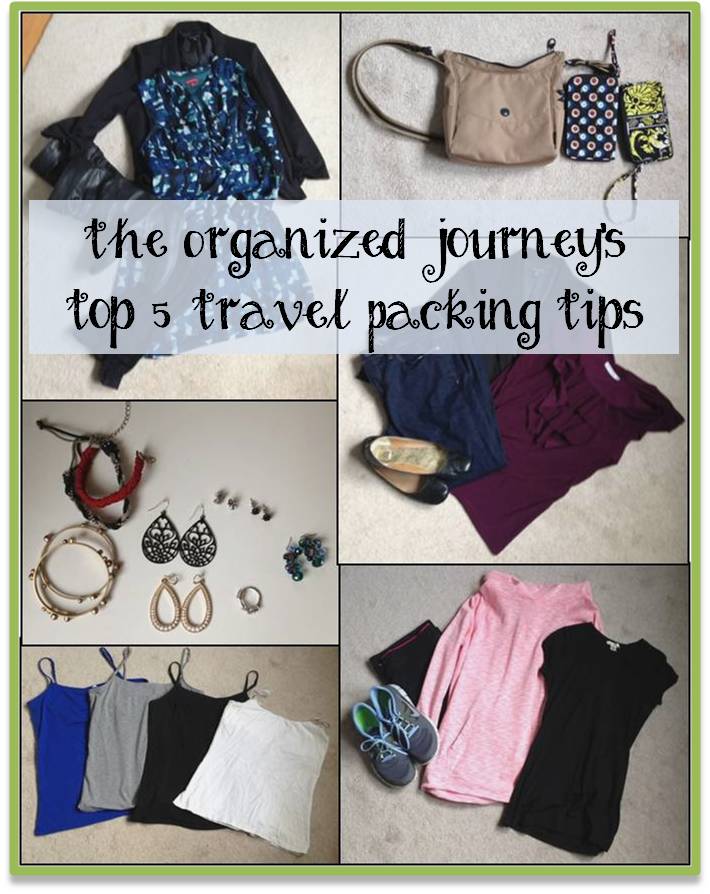 When I first started traveling, I didn't know the first thing about packing. I over packed, shoving in all kinds of things I'd never use, and lugged around a huge, unwieldy suitcase. It wasn't that I wasn't organized…I had a packing list…it's just that I had this fear that I'd forget something or not pack something I would need. After having traveled a bit more, my attitude is more 'So what? So what if I forget something; they have stores in other parts of the world too.'
Having gone through my own packing trials and tribulations, I've summed them up into my Top 5 Travel Packing Tips:
Stick to one color palette/family
Layer, layer, layer
Rewear
Accessorize
Do laundry
Tip #1: If you stick to one color family (like blacks or browns) I find that it's easier to mix and match outfits. I'm partial to blacks and grays, because I think they can be dressed up or down really easily.
Tip #2: Layering is essential to packing lightly, and this goes hand in hand with Tip #1. This way you don't have to worry about lugging around heavy jackets and outerwear.
Tip #3: Some people really aren't into rewearing clothes, but this tip will save you the trouble of carrying a 50 lb suitcase all around Europe or Asia, and if you've done that before you know it's worth it. I always pack enough socks and underthings to get me to Tip #5, but rewearing a cardigan, pair of pants, or a top is totally doable.
Tip #4: Accessories really help to dress up an outfit, which can lead to a lighter pack. I'm talking earrings, necklaces, belts, bracelets, and scarves. All of these are lightweight and small, and can easily be tucked into the nooks and crannies of your carry on. A gorgeous beaded necklace and a stunning pair of earrings can take a simple pair of black pants and a flowy top from day to night in no time.
Tip #5: I've found that my final tip is useful for trips that are more than a week long, but can be used for any trip length. When selecting apartments, I always look for ones that have laundry access. Don't worry about bringing laundry detergent, because every country will have it. Even if you're just washing your underthings and socks, that will save you a ton of weight and room in your suitcase. I know…who wants to do laundry on their vacation? But it's really never been that big of a deal. We throw in a load of laundry in the morning when we wake up, or in the evening while cooking dinner, and you barely need to give it a second thought. Most apartments also have drying racks, which are super helpful.
How do you feel about doing laundry on your vacation? Have you ever tried it?
-KB