Things have been good and I can't really complain. But I will rant about the fact that I'm not exactly looking pregnant yet, just a little puffy. I feel pregnant, especially now that the baby is practicing kickboxing and jui jitsu in the wee hours of the morning. I've noticed that the first thing people look at is my belly, and it makes me super uncomfortable. Yes, there's really a baby in there!
Mr.B and I went to the baby's anatomy scan last week and found out the sex of the baby. Last weekend we had a little get together with family and close friends to reveal what the baby is. Let me just say that there are some really talented people out there, and thank God for Pinterest! Otherwise the party decorations would have consisted of the Halloween and fall decorations that I've managed to put out so far. We surprised everyone with a homemade cake and everyone was over the top excited that our little one is a boy. We've decided to keep the name a surprise until the baby is born. We have a few strong contenders, but it may be a game time decision and we don't want to lock ourselves into anything just yet.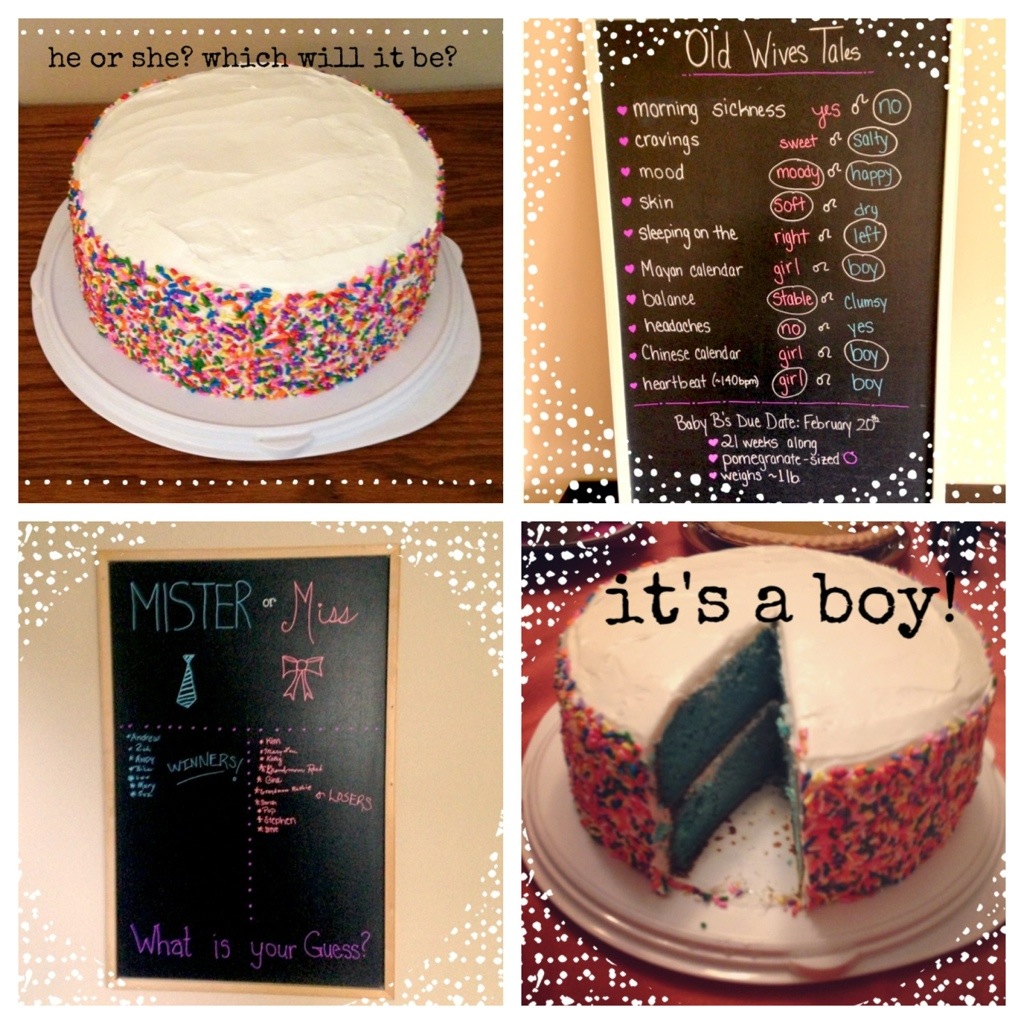 Awkward Moments: Let's talk about belly touching. Staring is one thing, but touching is a whole other story. I don't like it. Not one bit, and I'm not sure that I ever will. It's happened three times so far with family members (without asking I may add) and it's been awkward every time. There's not much to feel right now, so it's mostly just them rubbing the bloat from the pasta and cake I just ate, and it's a little too close to my lady parts for my liking.
Clothes: Getting dressed for work is a daily struggle. I now only have one pair of work pants that fit and every other brand I try makes me want to just give up and wear yoga pants 24/7. I'm tall, so I need long pants and I have a bit of a booty. Combine both of those with working in a office of 95% dudes, and you get a severely limited number of things I can wear and not get ogled. I've also tried Destination Maternity, Kohl's, Old Navy, and Target with zero success. Gap work pants are the only thing working and they're the most expensive. Go figure.
Fitness: I've been doing yoga about 2 times a week and lifting weights 2-3 times a week. I'm still able to use the same weights and the same number of sets and reps, but I can tell that my endurance and cardio has gone to crap lately. I'm excited for the cooler weather coming and hoping for some more walks outside. We actually just planned a long weekend full of fall activities and hiking that I can't wait to tell you about. Speaking of fall, I'm loving caramel apple pops and apple cider and can't wait to bring out my sweaters, scarves, and boots.
What did your pregnancy wardrobe consist of? Who were your favorite designers/brands?